Treats: Pain • Anxiety • Depression
Your Animal is Your Best Friend
and Relies on You…

Now You Can Safely and Easily
Relieve Your Animal's Suffering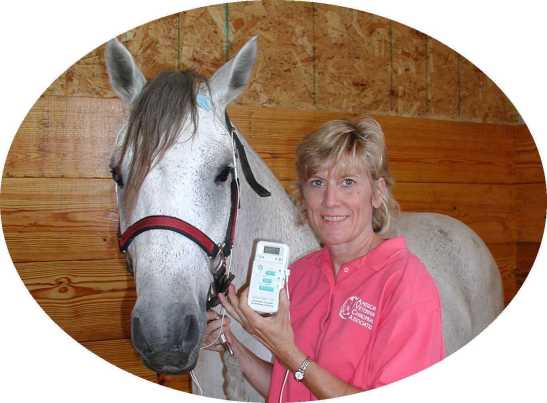 Feelings comprise all of life's pleasures and enjoyments, or discontentment, miseries, discomforts and suffering. For this reason, mental states are the only things in life that truly matter to animals.

Veterinarians have previously been taught to focus on an animal's behavior, not on its emotional states and their vital importance to the life experience of the animal.
From the animal's point of view, unpleasant feelings, from whatever source, mean the animal is living an unhappy life.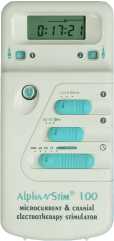 That is true whether the unpleasant feelings are health-related or of purely emotional origin.
The Alpha-Stim 100 effectively treats all unpleasant feelings in the animal, whether emotional or physical in origin.

How does the Alpha-Stim work?
The Alpha-Stim 100 is distinct in that it is based on the concept that the biophysics underlying the body's biochemistry also plays a significant role in regulating all of life's processes. Alpha-Stim's proprietary waveform works by moving electrons through the body and brain at a variety of frequencies, collectively known as harmonic resonance. This normalizes the electrical activity of the nervous system and brain as measured by an electroencephalogram (EEG).
What Scientific Research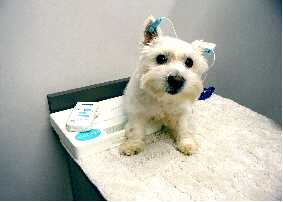 has been conducted?
At present there are over 126 research studies on CES in humans, and 29 animal studies. The overwhelming majority of the scientific research is extremely positive. No significant lasting side effects have been reported.
Treating pain with MET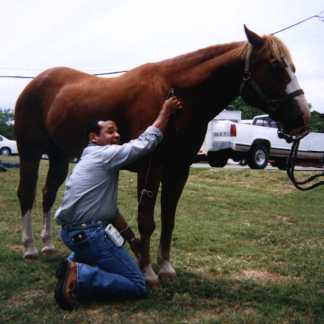 The Alpha-Stim 100 uses microcurrent electrical therapy (MET) for animals suffering from acute, chronic or post operative pain. Alpha-Stim 100 microcurrent technology produces residual and cumulative results, far superior to previous traditional milliampere transcutaneous electrical nerve stimulation (TENS) devices. Turn a TENS off and the pain returns. Although broadly classified as a TENS, the Alpha-Stim 100 is significantly superior because MET works with tiny currents, closer to the type and amount of electricity that naturally occurs in the body. By comparison, the electrical current used by typical TENS devices is thousands of times greater. Although a slight tingling sensation is sometimes felt under the electrodes, it is not necessary to feel anything in order to achieve results. This is especially important in animals who are generally more sensitive than people. MET is applied through easy to use probes or self-adhesive electrodes. Alpha-Stim technology is backed by more independent research than any other device in its class. Electromedical Products International, Inc. has been in business since 1981, treating a wide variety of medical disorders with Alpha-Stim microcurrent technology during that time with no reports of significant side effects.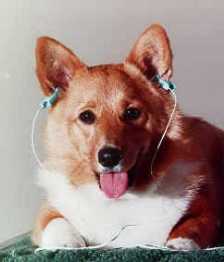 Treating Anxiety, Depression and
Insomnia with CES
The Alpha-Stim 100 treats anxiety, depression and insomnia using a method called cranial electrotherapy stimulation (CES). The treatment is very simple. The current is applied by easy to use clip electrodes that attach on the animal's ears. For animals that do not like to be touched or have things on their ears, you may elect to use the self-adhesive electrodes on both sides of the temples to receive the same effect. Use just 10 to 40 minutes every day, every other day, or on an as-needed basis, it can help induce a pleasant, relaxed feeling of well-being. Unlike drugs, Alpha-Stim leaves the mind alert. Anxiety reduction is usually experienced during treatment. CES can also help animals treat the underlying mood disorders associated with pain. After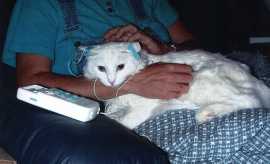 treatment, there are usually no physical limitation imposed so the majority of animals can resume normal activities immediately. Maintenance of a relaxed, yet alert state is generally achieved with treatments one to three times per week. As a result, the Alpha-Stim 100 is suitable for clinical or home use.
Who developed the Alpha-Stim?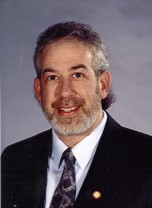 The Alpha-Stim 100 was developed by neurobiologist Dr. Daniel L. Kirsch and consultant engineers. Dr. Kirsch has been a leading pioneer in the field of electromedicine since 1972. He is a Fellow of the American Institute of Stress, and a Diplomate of the American Academy of Pain Management. Dr. Kirsch has served as Clinical Director of the Center for Pain and Stress-Related disorders at Columbia-Presbyterian Medical Center in New York City and the Sports Medicine Group in Santa Monica, California. He lectures frequently to physicians worldwide on pain and stress management.
What veterinary doctors are saying...
"There has been nothing in the veterinary industry that can do for animals what Alpha-Stim does. It is a drugless behavior and pain management treatment. Totally safe and effective, the AS-100 has made positive changes in my patients suffering from: pain (joints, bone, neuro, other soft tissue), cognitive dysfunction, nervousness, anxiety, lick granulomas, fear biting aggression, neurological dysfunction (upper and lower motor neuron lesions), urinary incontinence, anorexia in cats, loss of social status in home, over reactive sympathetic system in horses, post surgical pain and over grooming in cats. Clients are thrilled and amazed at the changes in their animals following Alpha-Stim treatments.
Thanks to Electromedical Products International, Inc., at Animal Fitness Center our slogan is, "Eliminating pain is what we do best!"TM Any veterinarians wanting to be on top of pain management needs to have Alpha-Stim in their hospital."
Ava Frick, DVM, Union, MO
---
"I have a holistic small animal practice and am also a licensed human acupuncturist. I have been using the Alpha-Stim for five years in animals and humans for all manner of conditions from frozen shoulders, to all manner of pain, and behavioral problems. In my human patients I have never failed to achieve immediate significant pain relief in the first treatment (I know because they tell me so). That means 75 to 100% pain relief right now.
I use the probes for pain control in dogs and cats with very definite success too, followed by CES for 20 minutes. I use the CES ear clips for calming anxious cats, especially those with cystitis, and to stop dogs from chewing at lick granulomas. CES works great to stop feather picking in birds by applying the probes to the area of ear canals for about 2-3 minutes. I couldn't think of practicing without an Alpha-Stim. In fact, I carry one wherever I go.
Robert Smatt, DVM, MS, LAc, San Diego, CA
---
What You Get: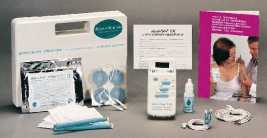 Each Alpha-Stim 100 is packaged complete with…
Set of 4 Self-Adhesive silver electrodes

Electrode wires

2 probes

Ear clip electrodes

200 felt electrodes for use with probes and ear clips

15ml bottle of Alpha Conducting Solution™

9 volt battery

Carrying case

Illustrated owners manual
Technical Specifications

| | |
| --- | --- |
| Power source: | one 9-volt battery |
| Current: | 10 to 600 µA continuously adjustable |
| Frequency: | 0.5, 1.5, or 100 Hz (pulses per second) |
| Waveform: | bipolar asymmetrical rectangular waves, 50% duty cycle, 0 net current |
| Mechanical: | height: 13.5cm, width: 6.4cm, depth: 3.3 cm including belt clip, weight: 156gm with battery |
| Carrying case: | height: 20.8cm, width 26.9cm depth: 4.6cm |
Five Year Warranty:
Each Alpha-Stim 100 is warranted to be free from defects in materials and workmanship under normal use for a period of five years except for replacement of batteries and accessories. See owner's manual for complete details.
Prescribing Information
Caution: Federal law restricts this device to sale by, or on the order of a licensed health care practitioner.
Indications: The Alpha-Stim 100 is an effective treatment with broad applications for a variety of syndromes involving pain, and management of anxiety, depression and/or insomnia. In many cases it is the sole therapeutic method required. As with any therapeutic intervention not all animals will respond to Alpha-Stim 100. The degree of efficacy will vary with the nature of the problem being treated and the overall health of the animal.
Contraindications: There are no known contraindications.
Precautions: For external use only. Do not allow children to use or handle this device without adult supervision. Safety of stimulation has not been established during pregnancy. There has been isolated reports of blood pressure being lowered by CES so care should be taken while using the Alpha-Stim 100 with high blood pressure medications.
Adverse Effects: Adverse effects are usually mild and self-limiting. Adverse effects from approximately 4,541 human patients participating in controlled, open, uncontrolled research and by physician survey and reasonably associated with the use of CES are dizziness (6 cases, 0.13%), skin irritation/electrode burns (5 cases 0.11%), and headaches (9 cases, 0.20%). Prolonged CES treatment at higher than necessary currents may cause dizziness. Paradoxical reactions such as hyper excited states, increased anxiety, and sleep disturbances may occur, but are extremely rare. No significant adverse effects have been seen in animals.
See instructions for use.
Read the manual thoroughly before using.
Manufactured and marketed by:

Electromedical Products International, Inc.
2201 Garrett Morris Parkway
Mineral Wells, Texas 76067-9484 USA
Tel. 1-800-367-7246 in the USA and CANADA, +940-328-0788, Fax +940-328-0888
E-Mail:
alpha-stim@epii.com
Link to Dr. Ava Frick's Animal Fitness Center Site